Participant Policies
SETAC strives to provide open and safe forums for knowledge exchange for environmental professionals, including meetings and conferences, workshops, seminars and other topical and networking events. These policies apply to all participants of SETAC initiatives, whether in person or online, members or guests, including governance and committee members, attendees, chairs, speakers, volunteers, exhibitors, sponsors, staff members and service providers.
---
---
Inclusion
Consistent with SETAC's values, we strive for both scientific and individual diversity and inclusivity in our operations and programming. Some of the initiatives to achieve and support these values include:
We are committed to providing a welcoming, productive and safe environment for all participants.
We follow bylaws and charters that ensure diversity and inclusion in all governance bodies and committees.
We offer students and underrepresented professionals financial assistance (meeting registration waivers and monetary stipends) to support their participation.
We follow procedures that ensure inclusivity when selecting keynote and plenary speakers for our events.
We select venues that are accessible for physically disabled individuals.
We retain sign language interpreters at in person events and provide professional captioning for virtual activities when requested in advance.
We make family rooms available at in person events.
---
Open Science and Confidentiality
SETAC embraces a set of values that include transparency, integrity and civil dialogue. As such, SETAC's default assumption is to allow for open discussion of and access to scientific content associated with our programs (e.g., presentations and publications), at the time the content is officially made public (e.g., published or presented) and only if the wishes of the owner, the owner's intellectual property, and copyright laws are respected.
---
Recording, Photographing and Copying
As part of our commitment to be an open and transparent society, we accept participants in SETAC activities to capture and share the research being presented as long as they do so in a respectful manner, honor the intellectual property of the presenter, and they provide appropriate attribution.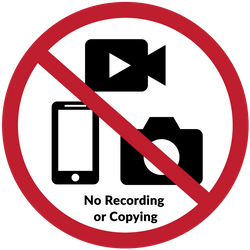 Opt-out Policy
Please respect a presenter's request to refrain from recording, photographing, copying or disseminating the contents of their presentation. Presenters may have various reasons for opting out, such as guarding intellectual property or not wanting preliminary data disseminated while they are seeking feedback from peers. We will provide the following tools to help communicate all "no recording" restraints:
A "No Recordings or Copying" icon that presenters can download and place on slides or posters.
The host, moderator, or session chair and presenter will verbally indicate any such restriction prior to a talk.
These steps will make it clear that a presenter does not want their results discussed publicly outside the confines of the SETAC activity in which they were presented.

Participants of SETAC activities should familiarize themselves with our social media guidelines.

At in person events, any photos should be discrete. Individuals should never distract from the talk, block other attendees' views, or disrupt discussion or engagement by the posters.
---
Photo Release
Photographs will be taken at SETAC events. By participating in a SETAC event, you agree to allow SETAC to use your photo in any SETAC-related publication or website.
---
Presenter Responsibilities
Conflict of Interest Disclosures
Obvious conflicts of interest and those that may be perceived by the scientific community as such must be reported in each presentation. Research funding or other support from outside the authors' stated affiliations must also be disclosed. Disclosures should appear in a prominent location in a presentation, such as a standalone slide ideally at the beginning of a presentation or a box in a poster.
Copyright
Your efforts as a presenter at SETAC activities are valuable, and we want to ensure you are aware of the legal and society requirements regarding to previously published material that may appear in your presentation.

Abstracts and introductory notes for presentations are published in abstract books and online, and SETAC retains the rights to all material published therein.

SETAC does NOT retain copyright on presentations nor publish presentations. However, when you agree to have your presentation recorded, provide a recording of a presentation, or upload an image of your poster presentation, you declare that you have the right to grant SETAC permission to use, reproduce, display or distribute (internally or externally) materials from the presentation, including derivative works. For instance, SETAC can report on presentations in the Globe, tweet summaries of a presentation on SETAC social media, and use images (photos) in SETAC's marketing materials. Being able to grant these rights may require more stringent attention to permissions than you are accustomed to obtaining for a one-off classroom presentation or an unrecorded meeting presentation, and it is critical that you adhere to the SETAC copyright policy.

Presenters are encouraged to use the "no recording or copying" icon on their slides or poster to discourage content copying. While SETAC will respect the use of these icons and will not use your material in any way, presenters should be aware that there is no way to fully enforce participant compliance with the policy. Therefore, presenters are encouraged to censor any material they do not wish to share publicly.
Caution
SETAC does not allow presentations that are advertisements of a service or product.
---
Booking and Registration Payment and Cancellation Conditions
Please consult the registration page of a SETAC meeting for detailed terms and conditions for each event. For membership terms and conditions, visit the Member Dues and Benefits page.
---
Event Safety and Responsibility Policy
SETAC is committed to providing a welcoming, productive and safe environment for all meeting participants and staff. Staff are available to help if you encounter questionable or concerning activity. No concern is too small.

If you experience harassment, hear of any incidents of unacceptable behavior, or if you would like to talk through incidents that have made you uncomfortable in any way, please contact the SETAC global executive director to help you.
Personal Safety and Security
We encourage you to follow these best practices for safety when at the SETAC meeting:
Be aware of your surroundings.
Walk with friends or colleagues to and from any event during early or late hours.
Remove your identification badge when you leave the venue.
Leave cash or credit cards in your hotel room safe.
Keep track of your personal property and do not leave it unattended.
If it is an emergency or if you need immediate assistance, please contact venue security personnel or local emergency numbers to help you.
Unacceptable Behavior
The following behavior is not tolerated:
Sexual or gender harassment, physical or verbal intimidation, and discrimination in any form, which include verbal comments related to gender, sexual orientation, disability, physical appearance, body size, race, religion or national origin.
Physical or verbal abuse of any event participant.
Showing nudity or sexual images in public spaces or in presentations.
Threatening or stalking any SETAC event participant.
Disrupting presentations at any SETAC contracted facility.
SETAC has zero tolerance for any form of discrimination or harassment, including but not limited to sexual harassment by participants or our staff at our meetings.
Event Responsible Drinking Policy
At most SETAC events both alcoholic and non-alcoholic beverages are served. SETAC expects participants at our events to drink responsibly. SETAC and event staff have the right to deny service to participants for any reason and may require a participant to leave the event.