Paul van den Brink Recognized with the Capacity Building Award
Andreu Rico, University of Valencia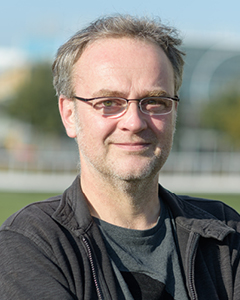 Paul van den Brink was awarded the 2023 SETAC Capacity Building Award to recognize the work he has done in developing nations to help develop institutions that can support professionals capable of undertaking chemical risk assessment.
When he was SETAC Europe and later World Council president, he helped to facilitate the establishment of SETAC Africa. He presented and organized short courses at a series of meetings across Africa between 2003–2011, including the Cameroon Society for Toxicological Sciences and the nascent SETAC Africa meetings, where he also discussed how best to establish the African geographic unit as a part of the global SETAC program.
His work was neither limited to SETAC nor Africa. Van den Brink served on the organizing committee for a workshop that analyzed the health, ecological and economic impacts of pesticide use and management in the Red River Delta of Vietnam in 2005. He continued his work through other international workshops that tackled global problems, including:
The impacts of agricultural contaminants on ecosystem services in South Asia
The threats pesticides may have on rice and wetlands, in concert with RAMSAR
Environmental contaminants and long-term change in tropical forests
Aquatic risk assessment of pesticides in Latin America
Pesticide registration by analogy, in concert with an FAO working group
Ground- and surface water risk assessment, in concert with an FAO working group
Understanding environmental and non-therapeutic health risks of increasing access to medicines in low- and middle-income countries
In addition to providing courses on environmental toxicology and ecotoxicology in Costa Rica, Brazil, Ghana, Zambia, South Africa, Ethiopia, Uzbekistan, Sri Lanka, Thailand, Vietnam and China, van den Brink has contributed to the success of various projects relating to chemical risk assessment and management. His work on the Pesticide Risk Reduction Program in Ethiopia supported regulatory bodies in Africa, like the Plant Health Regulatory Directorate of Ethiopia. His work in Asia included many EU-funded projects, including Managing Agrochemicals in Multi-use Aquatic Systems, in which van den Brink collaborated closely with researchers from Sri Lanka and Thailand; Sustainable Ethical Aquaculture Trade, with researchers from Bangladesh, Thailand, Vietnam and China; and Managing Pesticides in Vegetable Systems in South-East Asia: Combining Environment and Trade, with researchers from Vietnam, Thailand and China. Together, van den Brink and his colleagues improved the curriculum and enhanced local expertise in environmental management and impacts of chemicals in aquaculture and agriculture.
Aside from his direct contributions to workshops, van den Brink has served as a mentor and supervisor to many PhD students both from developing nations and those in the Global South. He has helped his students publish work that has contributed to the development of environmental toxicology and chemistry in general, and in many cases, work that has been foundational for many developing nations.
Finally, van den Brink contributed to the development of two models that help support risk assessment in the developing world. The PRIMET model is a decision support system for assessing pesticide risks in the tropics to man, environment and trade based on risk assessment procedures used in the European Union. The PRIMET decision support system can estimate the risks of pesticide application to aquatic life, terrestrial life, bees, non-target arthropods, the use of groundwater as drinking water and dietary exposure via the consumption of groundwater, vegetables, fish and macrophytes using a minimum of input data. The model is used by many researchers from developing nations to perform a first-tier risk assessment. He also contributed to the development of the ERA-AQUA DSS, a modeling platform to assess the risks of aquaculture chemicals to aquatic ecosystems, human health and trade in Asian pond-based farms.
Van den Brink was awarded at the SETAC Dublin meeting earlier this year.
Author's contact: andreu.rico@uv.es
Learn more about SETAC global awards.