Laurentian SETAC's 2023 Community Events and Annual General Meeting
Sarah Gewurtz, Environment and Climate Change Canada; Tyler Black, University of Guelph; Wilson Lau, Health Canada; Victoria Restivo, SLR Consulting; Carolyn Brown, Wilfrid Laurier University; and Denina Simmons, Ontario Tech University
Laurentian SETAC's 2023 Conference and Annual General Meeting at the University of Guelph
For the first time in three years, the Laurentian Chapter of STAC (L-SETAC) welcomed their membership to an in-person conference from 1–2 June, hosted at the University of Guelph. The theme, "One Toxicology: Integrating Science for Holistic Solutions," brought forth the importance of collaboration and transdisciplinary research as we seek to tackle current and future complex problems.
The conference kicked off with a full day of short courses. The first short course, "Introduction to Stream Sampling," took place along the Speed River, about 20 minutes outside of Guelph. Attendees learned a variety of stream sampling techniques with our incredible team of instructors, including Paul Sibley, Ryan Prosser, Yaryna Kudla, Moira Ijzerman, Robert Hanner and Tzitziki Loeza-Quintana, University of Guelph; Michael White, Ecoreg Solutions; Carolyn Brown, Wilfrid Laurier University; and Gerald Tetreault, Environment and Climate Change Canada. Our second short course, "Introduction to Contaminated Site Risk Assessment," was instructed by Victoria Restivo, SLR Consulting; Wilson Lau, GEMTEC; Nicole Thackeray, Englobe; and Karen Bechard, Geosyntec Consultants, who offered course attendees a foundation in risk assessment and information on career paths for students and new graduates. Attendees gathered at a local brewery that evening for the return to in-person Pub Nights. We heard from Oana Birceanu, Western University, on "Aquatic Animal Physiology: A Key Factor to Successful Invasive Species Management and the Generation of High-Throughput Screening Techniques for Novel Pesticides." We also shared food and drinks and kicked off the 2023 conference.
We had more than 100 attendees join us for the second day of the conference, where we had 22 platform presentations and 18 poster presentations, all presented mostly by students. Our first plenary speaker, Theodore Flamand, Wiikwemkoong Unceded Territory, shared his knowledge working as the Species at Risk Coordinator with the Wiikwemkoong Lands Department. Later that afternoon, our second plenary speaker, Krista Barfoot, SLR Consulting, spoke about holistic approaches to contaminated site redevelopment.
Finally, we wrapped things up at the University's on-campus pub, The Brass Taps, where attendees gathered for an evening of recognition and networking. Thanks to our sponsors, we awarded over $4,000 to 14 of the student attendees.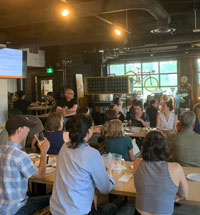 This conference would not have been possible without the generous support of our sponsors! Thank you to Geosyntec Consultants, University of Waterloo's Environmental Isotope Laboratory, GEMTEC, MTE, Nautilus Environmental, Syngenta, Ontario Tech University's Aquatic Omics Lab, Investigative Science Incorporated, Agilent, SLR Consulting, CanNorth, Ecoreg Solutions, Englobe, McMaster University Faculty of Science, Wellington Laboratories, Kilgour and Associates Ltd., and the University of Guelph Agriculture and Food Laboratory. In-kind support was provided by the University of Guelph School of Environmental Sciences.

We look forward to seeing you next year at the 2024 Annual General Meeting and Conference!
Laurentian Chapter Out in the Community
With COVID-19 restrictions receding, members of L-SETAC are proud to participate in community events once again. Events that we were involved in this year include three Regional Science Fairs and tree planting as part of Earth Day activities.
Regional Science Fairs
Members of L-SETAC were involved with three regional science fairs in 2023. We presented special awards in the field of environmental toxicology and chemistry at the Bay Area Science and Engineering Fair (BASEF), the Ottawa Regional Science Fair (ORSF) and the Peterborough Regional Science Fair (PRSF). A number of L-SETAC members were present at the fairs to evaluate students' projects and decide on winners at the middle- or high-school levels. Overall, we were very impressed with all of the projects, and it was very difficult to select award winners.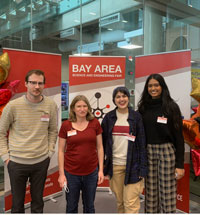 L-SETAC judges at the BASEF were Tyler Black, Sarah Gewurtz, Shanza Jamshed and Abithiny Selvarajah, with Shari Dahmer coordinating. The titles of the L-SETAC award winning projects were "Creating Bioplastic that Has the Most Effective Adsorption on Atmospheric Aerosol Particles," which took the Intermediate/Senior award, and "SODIS in Canada: A 'Cool' Way to Disinfect Water," which won the Junior award.
In the national capital, Wilson Lau and Hardeep Gill volunteered to judge for the L-SETAC special award at the ORSF. It was great to see people back in person, and our judges selected two amazing projects for which we awarded our two prizes: "What is the Best Method of Applying Fertilizer to Avoid Surface Runoff?" took the Junior award and "The Future of Forestry: An Investigation on the C02 Emissions from the Forestry Industry" won the Intermediate/Senior award.
Denina Simmons and Carolyn Brown volunteered to judge at PRSF for the L-SETAC special awards. The Intermediate/Senior L-SETAC award winning project, "Purifying Chlorinated Water with Carbon", examined different activated carbon and petroleum jelly (Vaseline®) treatments in coffee filters to remove chlorine from drinking water. The Junior L-SETAC award winning project, titled "Superfood for Superworms," found that darkling beetle larvae eat more Styrofoam than cardboard.
We wish to thank our great judges for taking time out of their busy schedules to attend the BASEF, ORSF and PRSF on behalf of L-SETAC. Our involvement in these science fairs would not be possible without L-SETAC members being so gracious with their time.
Earth Day Tree Planting Event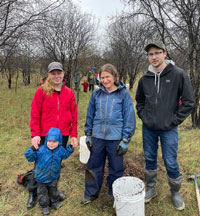 L-SETAC members (and some future little members) commemorated Earth Day by planting trees in a new forest in Guelph, Ontario, called the Hanlon Creek Forest. This forest is being planted in partnership by the Rotary Club of Guelph, Trees For Guelph, and the City of Guelph. This site will take four years to plant and could become part of a future pollinator flyway.
Author's contact: tylerandrew.black@gmail.com